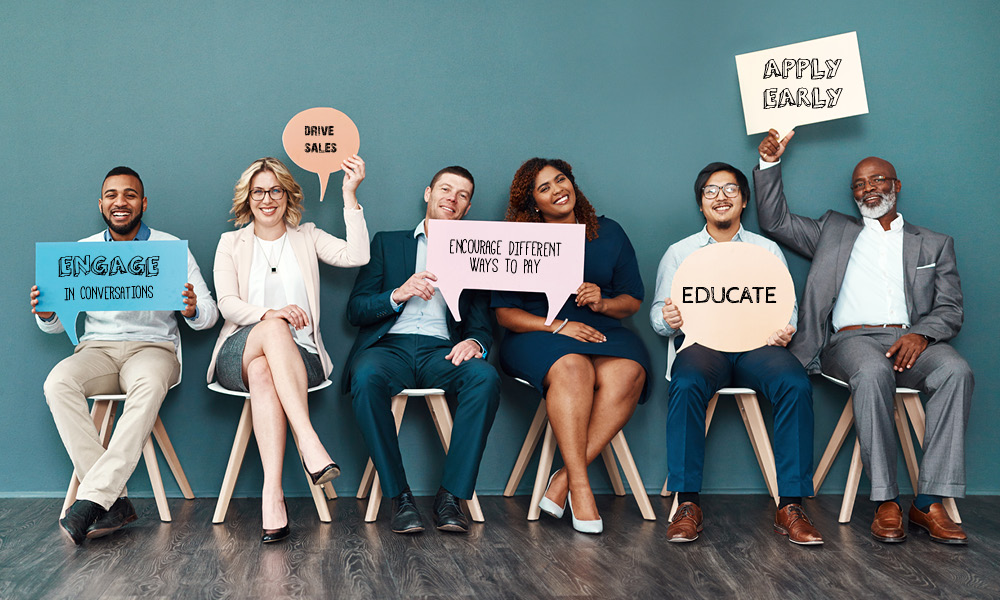 22 May

Get the Most Out of Your Financing Options in 4 Easy Steps

Customers walk into your store every day, browsing and measuring the couches and TVs. As they open the doors on your refrigerators, they ponder if the price is right. It's no secret that customers are the lifeblood to any successful business. Having access to alternative financing options can alleviate stress and means fewer rejections for customers when it comes to making large purchases, such as appliances, furniture, and electronics.

The concept seems simple but educating your customers on all available payment options before they start shopping is crucial.

We have 4 steps to help you drive customer applications and improve your sale process by introducing payment options early.
Step 1 – Engage with every customer
This goes without saying — but we're going to say it anyway — welcome each customer into your store. Ask some basic questions such as, "What brings you in today?" or "What are you shopping for?" As you walk the customer over to their area of interest, make sure you let them know about ongoing promotions, sales, and payment options.
This message can be as simple as, "We have 20% off sofas today, and we have several payment promotions that include both a credit and a no credit required option. I'll let you look around but let me know if you have any questions." This educational effort starts your customer off on the right foot.
Step 2 – Talk about all the different ways your customer can pay
As customers continue to browse through your store and merchandise, make sure you're able to work within their financial needs. When the conversation shifts to price, make sure you present all payment options. Customers will identify which options they are interested in by how they respond. You might hear, "I am not interested in a credit card right now – we're just looking" or "No, I don't need another credit card, but wait, what is the no credit option?" With this insight, your sales team can then focus their efforts accordingly, and key in on those customers that are looking to take it home today versus those that may be shopping around.
Step 3 – Encourage applications early in your conversations
 With certain financing options, customers may get approved for an amount greater than anticipated. This is great news for you both. This means the couple you have been working with can upgrade to the 70-inch TV instead of the 50-inch. But you need to offer your payment options early and encourage customers to apply before they start shopping. Approvals happen within seconds, and who knows? Their budget just might grow!
Step 4 – Make sure you have educational materials on hand
Making a large purchase can be exciting but stressful. Minimize their anxiety by making sure your customers feel confident in the payment option they choose. Provide your customers with educational materials, highlight the customer service phone number, and make sure they take a copy when they leave.
Remember, you will improve sales and get the most out of your payment offerings by:
Offering all financing and leasing options to every customer.
Letting your customers decide which payment option is best for them.
Encouraging your customers to apply before they start shopping.
Providing a brochure or data sheet with program details to take home.
If you focus on these points and educate your staff on all payment options, you'll say yes more often and create a better customer experience.  If you're interested in connecting with new customers and creating repeat business – offer a payment option specifically tailored for those credit challenged customers – learn more.